I'm not good at making New Year's resolutions. I think they're dumb. Mostly because when I used to follow the crowd and make a resolution, it was usually something that was next to impossible to keep. It was a good intention, though. So, rather than deal with the guilt of not living up to my end of the deal…I stopped making them. Well, now I've sort of made myself this pre-harvest resolution. I've been enough sedentary over the winter, I can see and feel a few of the extra inches that are a result of this lifestyle. I know it comes with age but until I can't do something about it, maybe I should at least up the ante on the number of steps I take each day.
I got a bit obsessed with knowing the number of steps I was taking when I rode to New Orleans with Jenna to help her with her CLAAS booth at Commodity Classic. The facility was gigantic!!! It took many, many steps to get from point A to point B. Our biggest day of steps was 21,391 or nearly 10 miles. So, when I checked my phone the other day and the health app showed less than 1,000 steps, I decided I could do something about that. Either I needed to keep my phone in my pocket a little more OR I could just take off and go for a walk after Callie leaves for school. I opted for option #2.
The first day was the day to determine my walking course. I decided I was going to go to this corner, to this corner, to the highway, back to this corner and then home. The distance? 2.5 miles. Yep, I was a little sore but really not that bad. When I got back, Jim asked me (from his chair), "How far did you go?" I told him and his reply was, "Well, you never did like easing into anything". He's so spot on! If I put my mind to something, there's no easing into it. It's full board from the get-go!
So, let me tell you about the course and the elements that I battle each time I decide to rack up the steps. The terrain is hilly. Our little town sits on top of a hill. One concern we'll never have is flooding. If we do, the rest of the countryside will be completely submerged. On top of this hill (unless you're protected by the trees and houses), it is very windy. You really don't notice it until you're outside the village boundary. This spring has been horrible for wind (as most of you can attest to). So two of my push backs are the rolling roads and the wind.
This morning, I left the house feeling like I could probably leave one of my jackets behind. So, I opted to just head out with the hoodie. The sun was shining and the birds were singing. It didn't look too windy. WRONG. I was completely deceived.
As I turn the second corner, I felt it. A little rock had made its way into my shoe. It wasn't too large and I just didn't want to stop the pace to remove it. So, I kept pushing each step trying to ignore that tiny little rock. And then I got to thinking about that rock in a different way. I thought about it as some of the people we encounter in our lives and businesses. That tiny little rock (that really felt like a boulder) made each step forward hurt. It irritated and it made the job of walking very uncomfortable. The same with some of the people in our lives. They are there constantly irritating; reminding you they're there with every step you take. As the terrain changed, that rock would move. At times, it was bearable…others it was down right hurting. Sometimes, it made its way to the ball of my foot, sometimes to the arch and the worst was under the heel. Why in the world don't you just stop and remove it? Too stubborn, I guess. I wanted to press on and get to the end of this self-induced goal that I had created. I can do this and ignore the pain. Yeah, but just think how much better it would feel if you stopped and removed it.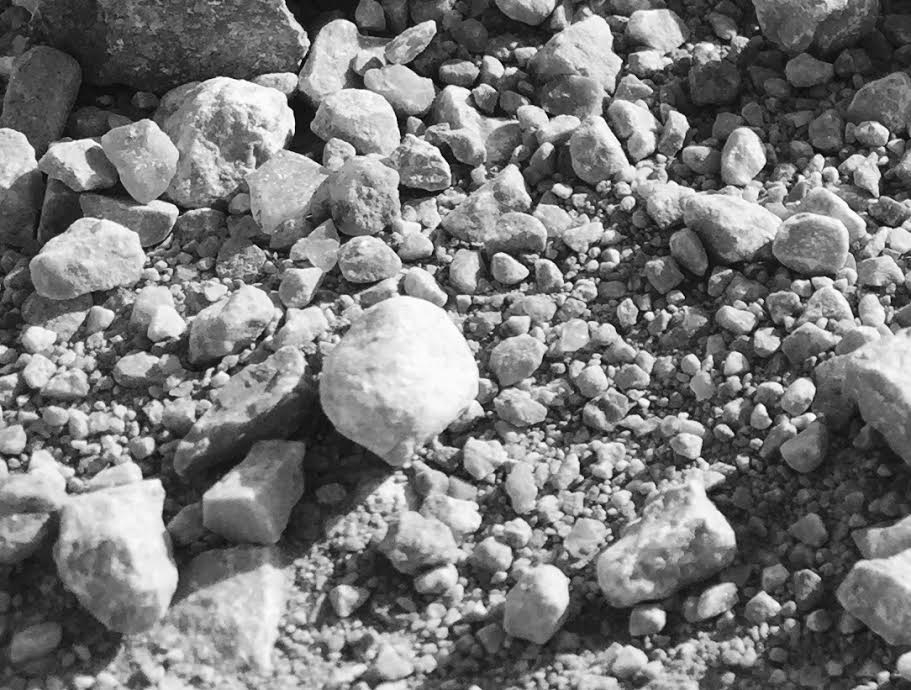 Although that pebble was probably one of the smaller in this picture, it felt like the larger one!
I got to the highway, turned around and headed back down the same way I had just came from. Another thought came to mind. Ughhhhh, the same road, only facing the other direction. I realized that I had stopped looking forward and from side to side. Instead, I was looking down at the ground. I stopped paying attention to the sounds of the birds and the sights that spring hold. Instead, I was concentrating on the rock road. When I realized this, I looked back up and around and listened. It made my steps of repetition go much faster and soon I would be turning another corner leading me back to my house – the last half mile.
What happened next was wind. LOTS of wind. And it was pushing against me…very hard. All I wanted to do was be done with this walk and didn't want to have to battle the element that was pushing me to walk harder. I thought about just quitting, sitting alongside the edge of the road and wait for someone to drive by. Even though we live around people and the roads aren't deserted, you very seldom see anyone on this stretch of road. So, I put the hood up on my hoodie, clutched the material around my neck (why did I take the string out?), and pressed on. I was also wishing for that second jacket now. The weirdest feeling overcame me as I was battling that strong wind. It felt like I wasn't going anywhere, although I know my feet were moving. And I felt very small. Has that ever happened to you? In life, doesn't it seem like the element that is pushing you the hardest is also the one that wants to make you feel small? Much smaller than you KNOW you are and would like nothing better than to see you stopped?
It took much longer to walk that last 1/2 mile than the first 1/2 mile!
I'm not sure why I was thinking about all of these little parts of my walk as deep as I was. I started comparing that pebble to people who are in our lives to irritate and cause pain. It would have been so much easier to stop and remove it. And I should have. Maybe it was pride. Maybe it was competition. Maybe it was just stupid. I know if it made its way to a tender spot of the foot, I was going to really hurt. As tough as it may be, when that pebble continues to irritate and cause pain, stop and remove it. It's okay to remove those who cause pain and want to hurt you – especially when all you're trying to do is better yourself or do good. Why let them continue to cause the unnecessary pain? Just stop and take it out!
The terrain – up and down. Our lives are full of mountains and valleys. The feeling of accomplishment you get when you've conquered those mountains (or hills in my case today) are the very best. But, when you get to the top, you know you've got to go down again. The refreshing feeling of heading for the valley. Much easier to take each step going down than it is going up. But the next mountain is right on the horizon. Hope I learned something from that last climb to make the next one just a little bit easier.
The wind. Oh the wind! A strong force pushing against me. Making. each. step. forward. just. that. much. harder. Come on, Tracy, you can do it. See that corner down there? It leads to the next turn – the last turn towards home. I could have just stopped, sat in the ditch and waited for someone to come rescue me. That's not who I am. I pressed forward.
"I press on toward the goal to win the prize for which God has called me heavenward in Christ Jesus." Philippians 3:14
The elements we encounter in our lives are there for a reason. Each hard thing makes us stronger to face the next pebble, the next mountain, the next push against who we are. We can step away from the course we have set and sit in the ditch or we can grab the hood, pull it tight and push forward. And, while you're doing it, keep your head up. Watch for the wonders of the world. Listen to the birds. Look for something different on that same path. That's your choice. Either focus on the road, rocks and dirt or the trees, birds, flowers and horizon. I choose to look towards the horizon and when that pebble really starts to hurt…I'm gonna stop and remove it.
I made it to that last corner – finally. Home is in sight! The person I am entering the finish line is stronger than the one that left 45 minutes ago because of the elements that I faced. And even though it seems those daily irritants are there to bring you down, they're there to make you stronger. Sometimes, though, that is not easy to see. Keep your sight on the horizon!
"I eagerly expect and hope that I will in no way be ashamed, but will have sufficient courage so that now as always Christ will be exalted in my body, whether by life or by death. For to me, to live is Christ and to die is gain." Philippians 1:20-21